The team of the Monestoy clinic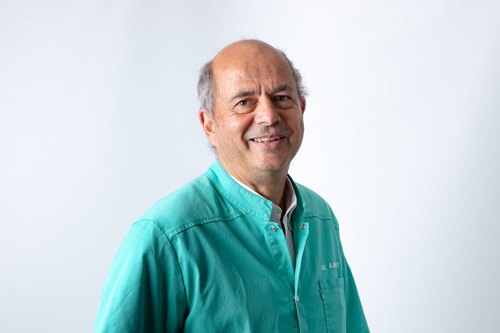 Arnaud BOHY
Associate Veterinarian
I am the oldest member of the Monestoy Clinic team. Graduated from the Ecole Nationale Vétérinaire de Lyon in 1984, I started my professional career in Vendée at Puy du Fou. I arrived in Épinac to replace Dr. Mazan and I worked to expand the clinic to become what it is today.
Throughout my career, I became involved in vocational training organizations and I participated in the development of cattle surgery including teaching in veterinary schools. My career at the Monestoy Clinic has been an exciting professional challenge and I am happy to share the passion of my job with motivated young employees.
Edouard GROSBOIS
Associate Veterinarian
Graduated from Ecole Nationale Vétérinaire d'Alfort in June 1997. I am one of the last men who did the military service. I left just after leaving school in November 1997 for ten months in Ile de la Réunion where I was the only vet military of all the armed forces in the southern Indian Ocean.
When I came back, I worked for two years at the Épinac clinic before the call for the open sea sounded again. After a year in Ile de la Réunion, I found the team at the Monestoy clinic at the end of 2001, whose activity was in full expansion. Partner since 2003, I like the versatility of my activity (rurale, canine, missions of expertise for insurance, management). However, I will go away for a while from the clinic to quench my thirst for discovery and travel.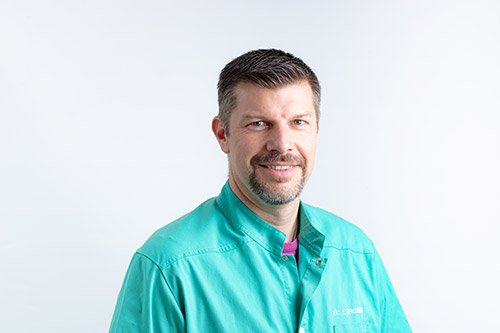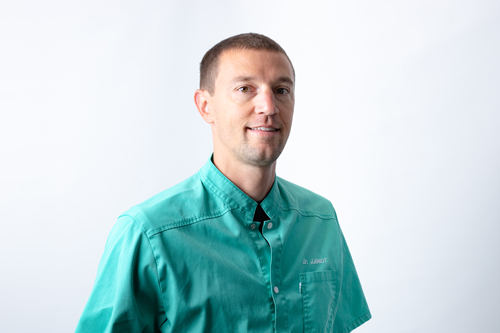 Jocelyn AMIOT
Associate Veterinarian
Graduated from the National Veterinary School of Lyon in 2004, I joined the Épinac team in December 2003 to share their experience in lactating cattle. Born in the region and delighted with teamwork, I joined in 2006. The objective of our structure is to develop an excellent service of medicine and general surgery for the different species for which we are responsible. Large animals have always interested me (cattle, horses) but pets now allow us to practice a job just as exciting.
Investment in the professional association has always been part of this clinic, and it is natural that I took over the torch of my predecessors to support our breeders in training.
I am very attached to the rural world in which we live. I do believe in this environment and I will do everything to keep it in the years to come.
Nancy SAVOYE
Associate Veterinarian
Graduated from Ecole Nationale Vétérinaire de Lyon in 2006, I finished my studies with a year of rural medicine and herd medicine at Ecole Nationale Vétérinaire de Nantes. During my studies, I also followed a two-year complementary training in veterinary homeopathy.
I started my career in a canine clinic near Toulouse. It is during the winter of 2007 that I work for the first time in the Epinac veterinary practice, which I definitely integrate a year later, and join me in January 2010.
I am particularly interested in herd management. I belong to a working group on farm animal parasitology. My motto: "Primum non nocere". (First, do not hurt)
I have a sterilized chocolate labrador that allows me to understand the difficulty of labradors owners to have a slender animal 😉 and two European cats. My mare SF allows me to evolve in dressage, show jumping and all around competitions.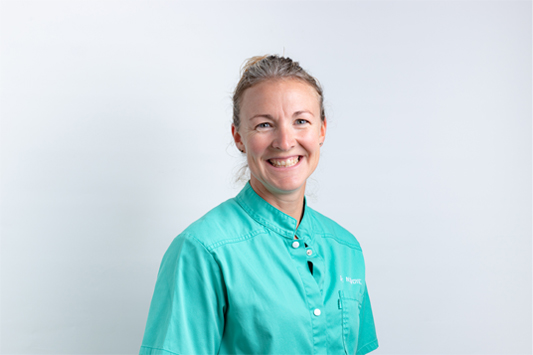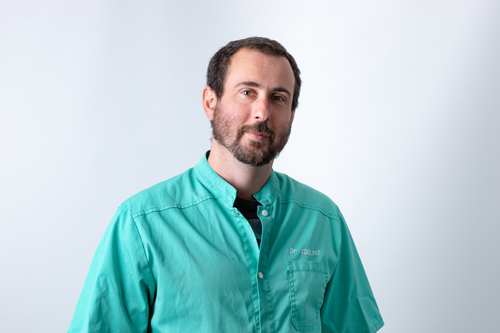 Thomas DELOST
Associate Veterinarian
Graduated from Ecole Nationale Vétérinaire d'Alfort in 2011, I started my professional career with a three-month replacement in the Doubs before arriving at Épinac vetclinic. The region, the work and the team spirit really pleased me, so I did not leave.
Associated in 2014, I started a 3 years training in veterinary osteopathy at the Institute of Alternative Medicine and Veterinary Osteopathy. Today, I practice osteopathy for dogs and cats as well as horses and cattle. In the continuity of this approach, I also seek to develop bone surgery within the clinic.
I am proud of my two dogs, an American bulldog and a beauceron, and of my cat.
Benjamin GIRARD
Associate Veterinarian
Graduated from Faculté de Médecine Vétérinaire de Liège in 2010, my professional career was realized in mixed structures (all animal species) starting in Picardie. In 2012, I graduated from Ecole Nationale Vétérinaire de Toulouse "Nutrition and feeding of the dairy cow". I then joined Bourgogne (a region that I love) and more specifically the Monestoy veterinary clinic in 2013. I appreciate the constant improvement process that the whole team is adopting. I have chosen to strengthen my expertise in medical imaging (radiography and ultrasound).
I own two dogs, three cats and two horses explaining my love of vetmedicine.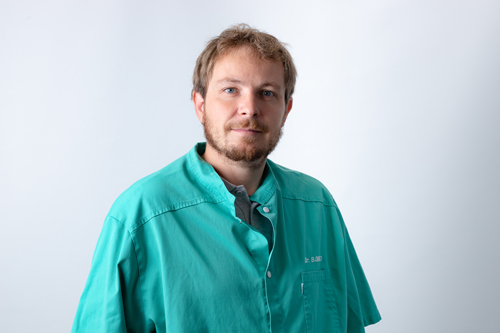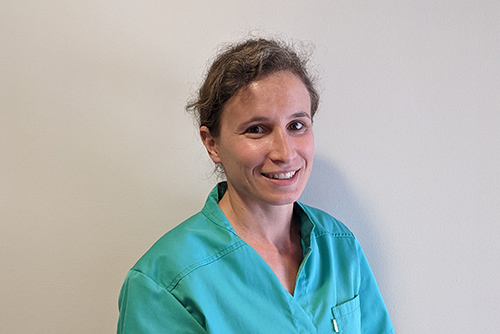 Karine DURREY
Collaborator veterinarian
Graduated from the National Veterinary School of Alfort in 2012, I have been working ever since, with a mixed clientele, predominantly rural, milk and breastfeeding, in Côte d´Or and Saône et Loire.
Attracted by the quality of the clinic's work, as much as by the values ​​of the company, I naturally approached the team to offer my services.
Passionate about rural medicine, I want to get involved in supporting farms, specializing in herd management, in order to provide quality advice.
I also give my full attention to the dogs, cats, and horses, which are entrusted to me, and the expectations of the owners.
On the other hand, I am involved in the association of rural veterinarians in the region, particularly in continuing education and veterinary networking in rural areas.
I adopted a dog, a cat and a Shetland pony, all survivors, who bring joy and sweetness to our family every day..
Tom Jovet
Collaborator veterinarian
Graduated from the Faculty of Agronomic Sciences and Veterinary Medicine of Cluj Napoca in 2021, I started my career in Savoy following a replacement for the summer in a mixed clinic. Having kept good memories of my internships and days of prophylaxis at the veterinary clinic of Monestoy, it is in Epinac that I chose to return to practice in medicine and surgery for production and companion animals.
Passionate about beekeeping, I plan to register for the Inter-Ecoles Diploma in Beekeeping and Beekeeping Pathology.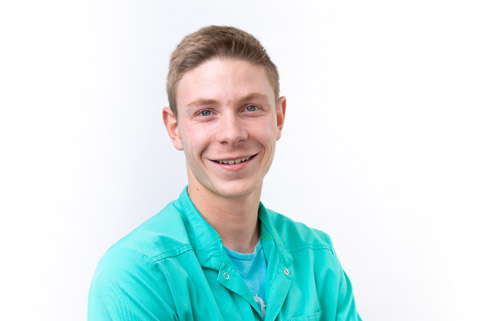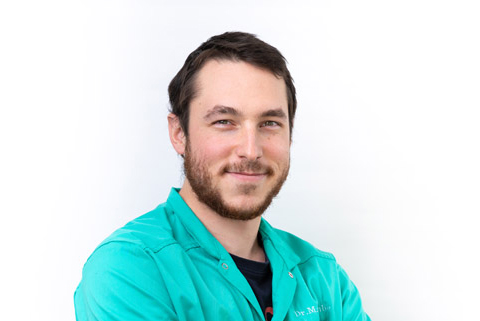 Matthieu Colombe
Collaborator veterinian
Freshly graduated from the Lyon school in 2021, I am keen to train myself in all areas but especially farm animals. My internships allowed me to travel around France and thus understand multiple ways of working and practicing medicine and surgery. I made replacements in two different clinics where I was able to learn autonomy to realize my passion for this wonderful job. Some clientele breeders may even have seen me during the 2020-2021 season during their annual prophylaxis.
I own a cat that all sofa cover manufacturers love because he loves to scratch his nails.
Marie-Claire
Veterinary Secretary – Management
Arriving in 1984 in the structure, Marie-Claire knew all the veterinarians who practiced in Epinac and was able to adapt. Today, Marie-Claire is in charge of the management of prophylaxis (health monitoring of farms). She manages with Christine veterinary products (medicines, food, equipment).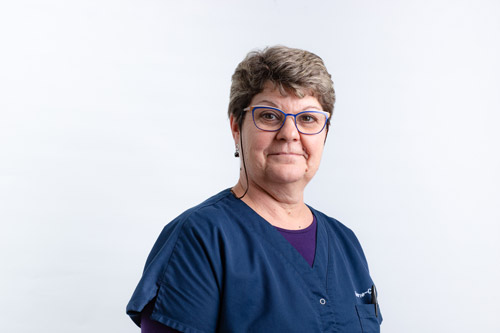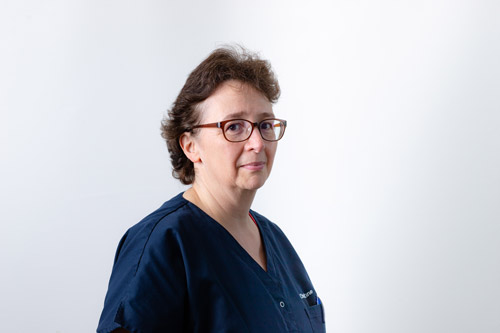 Christine
Management Assistant
Christine joined the organization in 1999 and brings her skills in administrative and financial management in particular. Today, Christine is in charge of a large part of the clinic's accounting; it is therefore logically that it is now responsible for the recovery of invoices. With Marie-Claire, Christine manages the orders of the clinic, and suppliers relations.
Isabelle
Veterinary Secretary – Home
At the reception of the clinic since 2007, Isabelle manages the reception at the counter and the telephone office every afternoon. She finds "all her clients" with great pleasure and is at your disposal to answer all your questions. She also manages reminders for all your companions (annual health check, senior assessment and puberty consultation, reminders on antiparasitic treatments).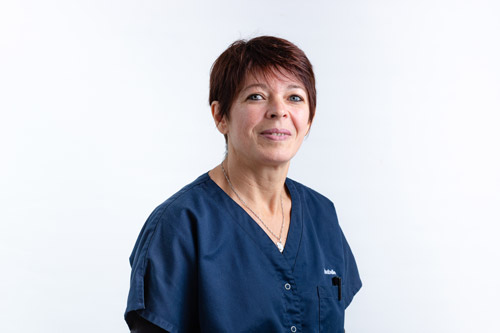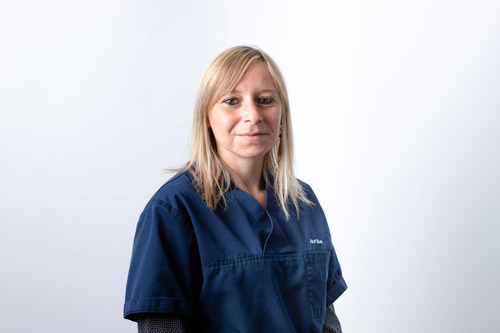 Aurélie
 Nurse
It was in 2012 that Aurélie joined our team and participated in the development of our canine and feline activities. This is the nurse of the clinic. Constantly solicited to assist veterinarians, whether in surgery, consultation, imaging or analysis, she responds present and always with a smile. Passionate about behavior and dog training, she trained in a new concept of prevention for puppies and behavioral evaluation for dogs with Dr. Nathalie SIMON. Aurélie offers to accompany you in the puppy choice and his education.
Julian 
Nurse
In 2017, Julia joined the team after having worked in several canine and mixed clinics. In addition to a solid experience and a particular appetite for surgery and care of small animals, Julia likes contact with horses, donkeys, goats and poultry. Present at the reception every morning, she notably ensures the entry of your animals during ambulatory surgeries. She is happy to answer your questions about the health and well-being of your companions. Also interested in nutrition and complementary medicine, she is at your disposal for advice. In the afternoon, Julia takes care of the hospitalized animals.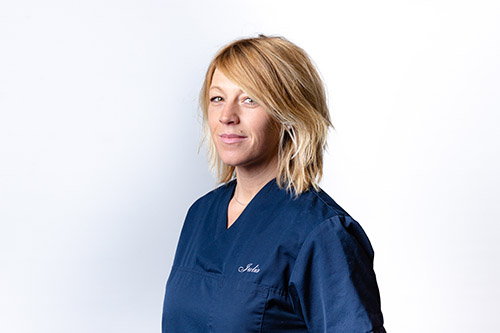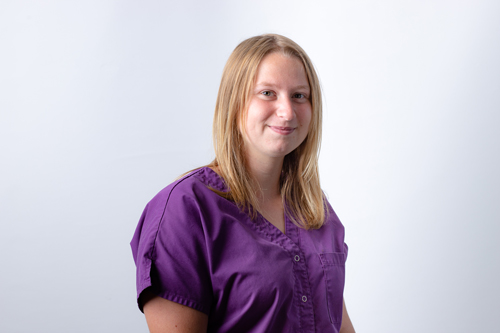 Océane 

Nurse in training
With enthusiasm and efficiency, Océane replaced Julia in 2019 during her maternity leave. Océane already has solid experience in dog breeding and wishes to continue professionally as a specialized veterinary assistant. She perfectly integrated our team and we thank her. We therefore entered into a two-year apprenticeship contract with Océane.